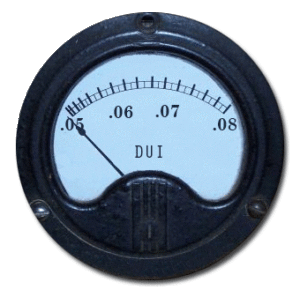 Nobody wants to face a DUI charge, but they happen every day, no matter the efforts of law enforcement or our legislators. But it is always nice to have that reminder that can make a difference, like how smart it is to have a designated driver if you'll be drinking. Or maybe an app that can help you calculate your blood alcohol concentration (BAC) and then prompt you to call a taxi. Considering that's the legal measurement of intoxication, knowing common DUI levels is one of the best ways to avert a DUI disaster.
BAC is measured in your breath by breathalyzers, or through blood or urine tests. However, you can estimate your BAC when you're out at a bar or partying with friends. The rule of thumb to stay safe when drinking is one standard drink per hour. That keeps everyone from making a mistake and ensures they arrive home safely.
DUI levels you should know:
.08 percent BAC: the legal, per se limit for a DUI, DWI or another drunk driving charge in all 50 states.
.04 percent BAC: the legal, per se limit for a DUI or DWI in a commercial vehicle.
.02 – .03 percent BAC: the range of limits an ignition interlock is set at to determine a failed test.
.00 percent BAC: the "zero tolerance" limit for an underage DUI or DWI. Minors who drive under the influence can and will be prosecuted with any amount of alcohol detected.
If you're out with friends, the best thing you can do is remain sober if you'll be driving. Second to that, you can offer to be the designated driver and make sure everyone gets home safely. DUI levels are great to know but when you haven't been drinking, you don't have a worry in the world about where your BAC lands on the scale.