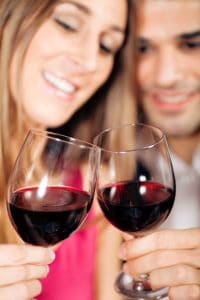 When it comes to the final destination after a night of drinking, we ask that others exercise good judgment, maybe even caution as they head home for the night. We want our friends and loved ones to have fun and stay safe. Only a recent report states that going home is probably the last thing on the mind of many drunk drivers. Gettin' busy after boozin' is the "last call" for many DUI drivers, perhaps adding even less good judgment and caution into the equation.
A recent survey asked 1,000 drunk drivers about their drinking (and driving) habits. The entire report is fascinating and well worth the read, further explaining the "social and environmental" factors behind drunk driving, per the NHTSA.  However, the best part may be, of course, the place a person is heading to, despite being way past a safe blood alcohol concentration (BAC) limit.
Of the 1,000 drunk drivers surveyed by CheapCarInsurance.net, 94 percent admitted they drove while intoxicated for the following reasons:
26 percent hopped into a car after drinking in order to reach a "booty call."
39 percent went to a friend's house.
25 percent were heading to another bar.
17 percent wanted to hit up a liquor store.
100 percent of those admitted drunk drivers were dangers on the road.
For many, going to bed after drinking is the most normal destination in the world. The least normal, or safe way to get there is driving after drinking. Alcohol has a natural way of relaxing the mind and body, leading to peaceful (but not exactly restful) slumber at the end of the night. Between the first drink and the final good night, make sure you are not so relaxed that you join the ranks of other drunk drivers. An ignition interlock may work against your next booty call, so plan for a safe ride to bed, whichever bed that may be, and rest assured your walk of shame at least won't be caused by drunk driving.