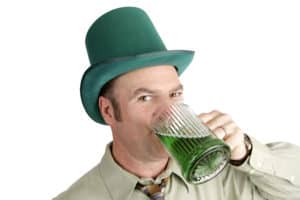 It's St. Patrick's Day, where the green beer and good times will be flowing throughout the night, and probably well into the weekend. For those of you ready to celebrate your Irish (or Irish-for-a-day) heritage, remember that it is easier to juggle your opportunities for a safe ride home than the consequences for drunk driving.  Thinking of ways to beat a DUI on your way home? Go ahead and just call a taxi for a safe ride home. Unless you're this guy, who juggled his way out of a DUI.
Spoiler alert: he was sober.
We're not saying that you can't juggle yourself out of a drunk driving arrest, but why take a chance with your freedom and independence. Trying to beat a DUI by refusing a breathalyzer test, turning around before a sobriety checkpoint or lying to police will only cause you more trouble. It's St. Patrick's day and you already know you'll be drinking tonight. Have a plan before you head out so that you don't have to worry about ways to beat a DUI, ignition interlock requirement or worse.
A safe ride is the only way to beat a DUI.
St. Patrick's day is the fourth most popular day for drinking in the U.S., with an estimated DUI-related vehicle crash occurring every 72 minutes. There's no harm in celebrating, as long as you do so safely.
St. Patrick was legendary for chasing the snakes from Ireland, much like our law enforcement chases drunk drivers off our roads on this unofficial holiday. Fortunately, St. Patrick's Day only happens once a year, and anyone who has to chase down drunk drivers is happy to see that holiday come and go each year. There are better ways to spend your time, energy and money than trying to beat a DUI this St. Patrick's day.