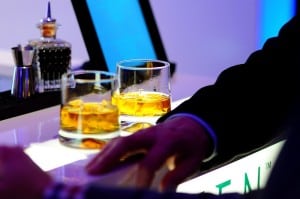 Controlling our food portions is a huge part of healthy living, and it can come as a huge surprise when we realize that delicious steak is actually three or more servings of protein. Once we finally get a handle on how many cups of veggies are needed each day, and the limited number of chips we should eat, a healthy life seems well within reach. Then, we find ourselves at a local bar, tempted by appetizers, desserts… and, of course, happy hour specials. Suddenly, it isn't just the calories or fat content of food that we need to watch, we have to make sure we are not drinking too much alcohol to become a danger on the road once we head home.
The problem is, a "glass" of wine can be deceiving and your favorite cocktail could be the new "steak" you face, since alcoholic beverages follow similar serving guidelines. Making that a bigger problem is how little we are told about alcohol "serving facts" and the effect too many servings can have on our level of sobriety.
Typically, a serving of alcohol is .6 fluid ounces, excluding the rest of the liquid in your glass. So, that comes down to 12 ounces of beer, four ounces of wine or 1.5 ounces of liquor (a standard shot). If you are consuming more than the standard serving of alcohol, you are doubling or tripling the recommended amount to maintain sobriety, especially when you take advantage of "two for one" happy hour specials. Also, since different types of beer, for example, can have a different percentage of alcohol in each serving, you could be well on your way to a "bad decision" Tuesday nightmare, including a DUI conviction and an ignition interlock requirement.
The food and drinks we put in our bodies have a lifetime effect on our health and well-being. When it comes to alcohol, the serving sizes are deceiving, and the results of overindulging can be tragic. Being a responsible drinker means you get your "serving facts" straight before you head to the bar, and that you still have a safe way to get home, no matter the portion you drink.